Hey are you getting tired of POF, and Want to Delete POF Account, Don't worry Recently we deleted an account, and we can explain the simple way to get rid of the POF account.
We struggled a bit with deleting an account but finally found out the easiest way to delete an account and we successfully deleted an account in 4 easy steps.
As we POF is a very popular dating platform but sometimes things are not good for us, at that time just stay away from the platform.
Just follow the steps one by one as mentioned below to get rid of the POF Account, Don't worry we are adding the relevant image that help you to understand well…
How to Delete POF Account?
To Delete POF account go to the Safety & Health Option then Go to the Account Deletion Page and log in to your account Finally, Click on Delete My Plenty of Fish Account.
Go to Safety & Health Option
Go to the Account Deletion Page
Login to Your Account
Click on Delete My Plenty of Fish Account
Let's explore the steps in detail that can help you to better understand…
1. Go to Safety & Health Option
To delete your POF account first of all open the Plenty of Fish app and log in to the account that you wish to delete.
Then, after opening the app go over to the chat tab on the bottom right corner of the app, the option will be denoted by a message icon, click on it.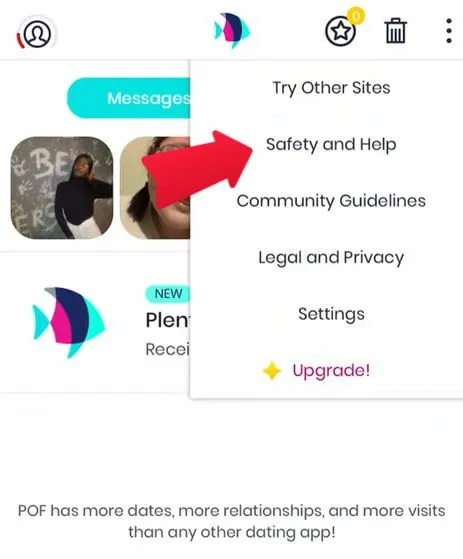 Then click on the three-dot menu click on the "Safety & Health" option and then follow the process on the next step.
2. Go to the Account Deletion Page
Here on this page, scroll down below and find an option that will be shown like "How do I Delete My Plenty of Fish" account?
Here on this option, you'll find the link to the account deletion page, Copy that link, and then paste it into any of your web browsers on your mobile.
3. Login to Your Account
Now, after opening that link into a web browser, you'll need to log into your Plenty of Fish account again using your credentials (i.e. E-mail, username and password, etc.)
4. Click on Delete My Plenty of Fish Account
After logging in to the account, the account deletion page will open, and now you'll have to enter your credentials like username, and password again.
Further in the account deletion form, you'll be asked some basic questions like, how many dates you go on with the help of POF, why you're deleting your POF account and if you, met someone, etc., and so on.
Answer all these questions honestly and then click on the "Delete My Plenty of Fish Account" confirmation button at the bottom of the page.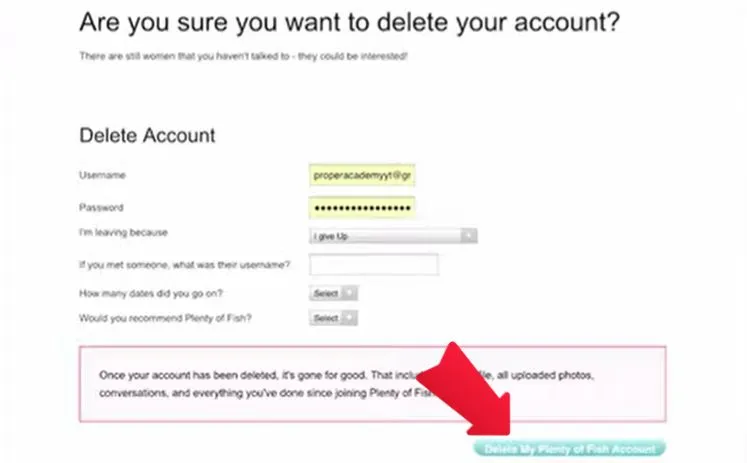 And, that's it your account will be now scheduled for deletion and will be permanently deleted after 30 day waiting period.
And now you'll be logged out of your account and your profile will be hidden from other users on POF.
So, this was the process of deleting your Plenty of Fish dating app account, now we are adding a video that may help you more…
Let's explore some FAQs, that are asked many times on the internet…
Can I temporarily deactivate my POF account instead of deleting it?
Yes, you can temporarily deactivate your POF account easily using the deactivation page. You can reactivate your account again when you wish to reactivate your account easily.
What happens to my messages and photos when I delete my Plenty Of Fish account?
When you delete your POF account, all your messages, texts, photos, and all the personal information you have given to in Plenty of Fish account will be permanently deleted.
Can I delete my POF account if I've forgotten my password?
Certainly, you cannot delete your Plenty of Fish account without your password if you're not already logged in to your account. However, you can always reset your password using the "Forgot Password" button. And you can delete your account easily after resetting your password.
Can I Get a Refund if I have a paid subscription to Plenty of Fish?
Generally, you cannot get a refund for the subscription which you have paid for on POF. But in some cases, you can get a refund by contacting the consumer support of Plenty of Fish.
Conclusion:
In the above paras, we properly covered How to Delete POF Account, Hopefully, you have no more doubts about this topic.
If you think this post is helpful to you or maybe for others then kindly share it, this help us to get more reach. Still, if you have any doubts then ask us in the Comment section soon we will respond to you…
Check some related Stuff from our Plaform…