When we talk about the OTT streaming platform, especially in the US we can not ignore Peacock TV, Peacock is a subsidiary of NBC Universal that content offers that include TV series, Film, Sports, News, WWE Etc.
But if you have any reason regarding content, services, and anything else that now you want to delete the account. And finding the answer over the internet.
well, you reached at right place Here you will get step by step guide on How To Delete Peacock Account, you just need to read this guide till the end without skipping any steps.
So definitely in the end you will be able to delete your peacock account successfully. So let's start this guide
How To Delete Peacock Account?
To delete your peacock account, Search "Peacocktv.com/help" on Google, open the help centre and search "delete my account" Open the first article then go to the privacy policy page and fill an online form and submit it.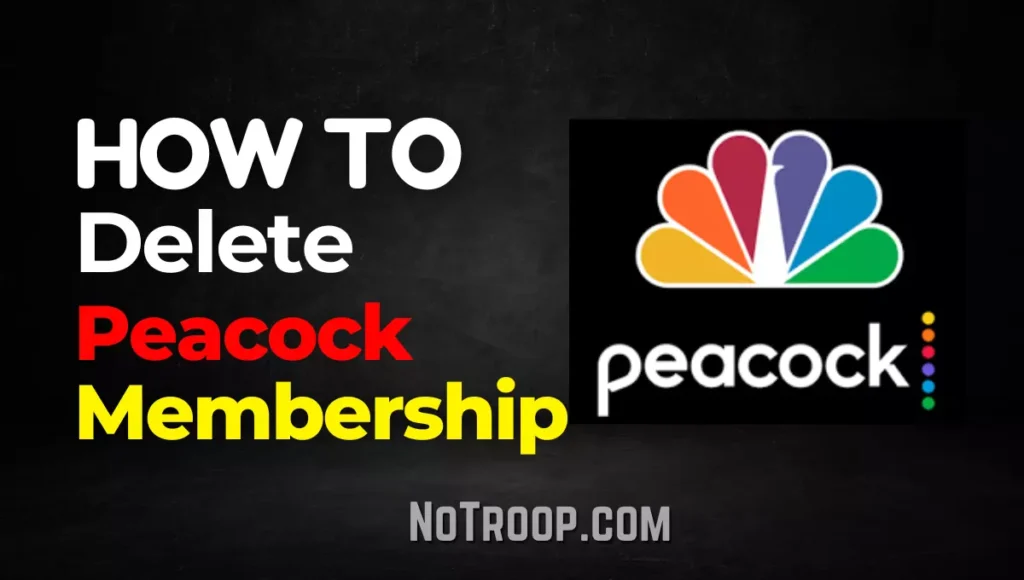 Below I will guide you with images in 8 easy steps, If you don't understand what I write, then scroll down and read all the steps carefully.
1. Go To The Peacocktv Help Centre
Well in the first step, you need to open your browser on your device whether it is your PC Or Your Mobile. For example, I open Google Chrome on my mobile.
Once you open your browser go to the help center of peacock tv. To go to the help center of peacock tv type in the search box Peacocktv.com/help.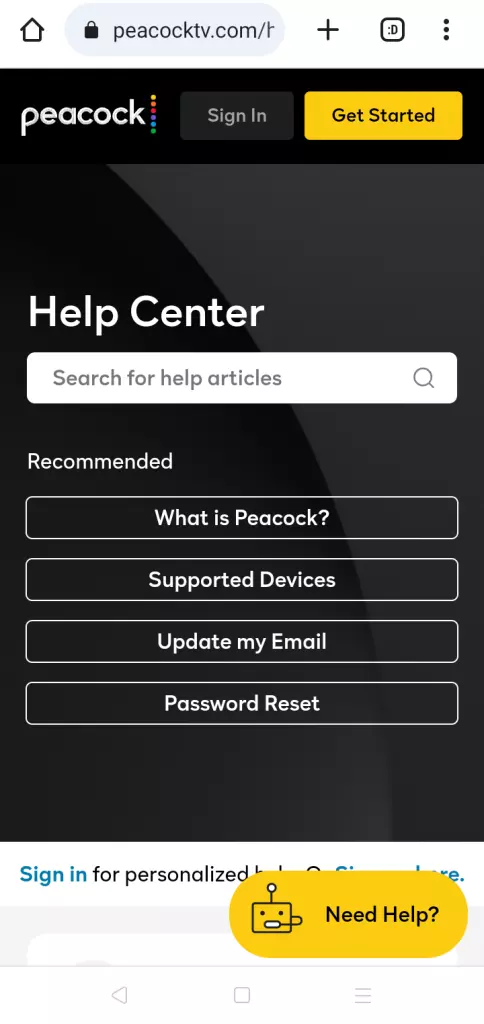 go to this web address or you can simply "click here" to go Peacock TV help center.
2. Search " Delete Account" Topic.
Now you can see in the image also you will be reached on this page. This is the help centre of Peacock TV. Here you are able to see a search box and more information.
As you can see in the search box simply tap to the search box and type "Delete Account" and search. Once you search related to this query you will get more articles.
3. Click On "How do I delete my peacock account" Article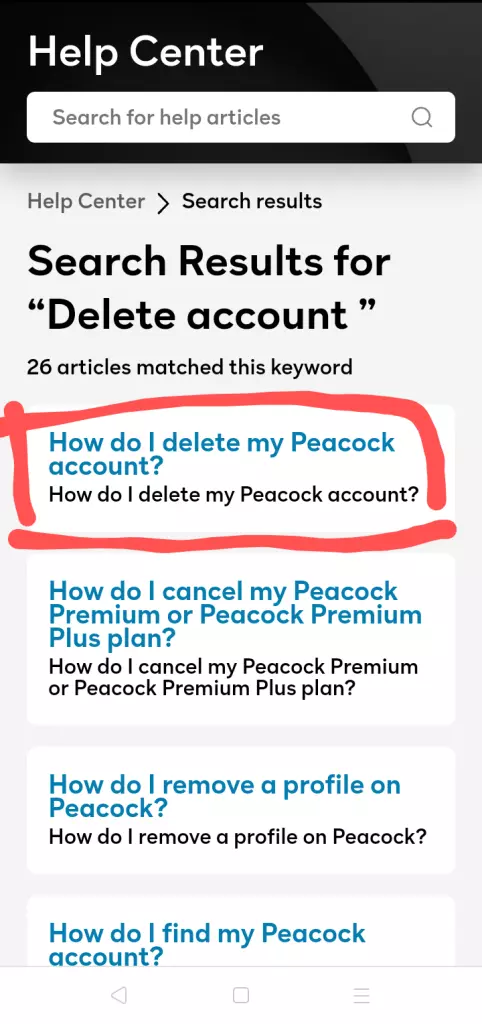 In the relevant articles' first article, you will find "How do I delete my peacock account" You need to click on this.
4. Go to the Privacy policy page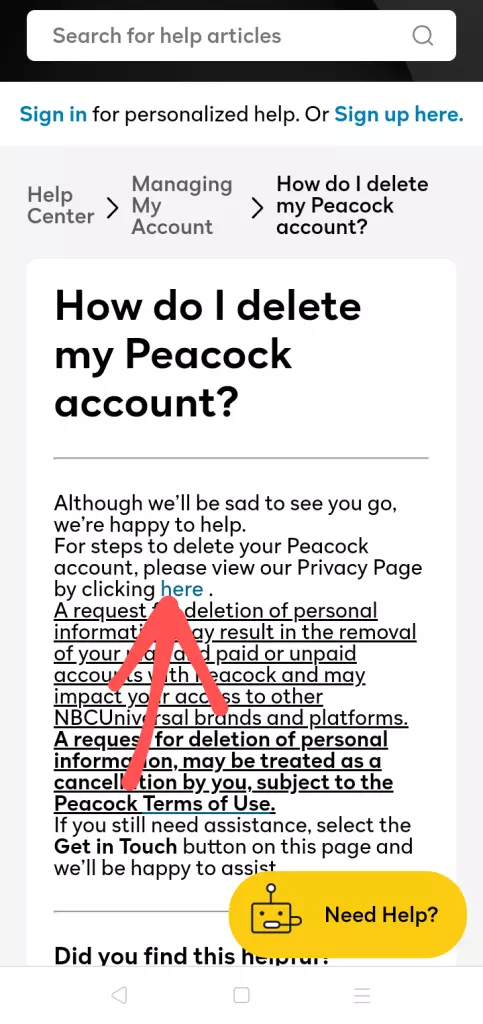 After clicking on "How do I delete my peacock account" a new page will open read the information given there this includes also reading the privacy policy click here.
You have to click on the "Here" Button which is given in blue see in the image for better understanding.
5. Go to "Your Rights"
Once you click on here button you will be redirected to another page which is "NBCU Privacy Center" Here you can read all their privacy policy once you read it.
just scroll down you will get an option in the drop-down section that is "Your Rights" Tap on it you will be able to see your rights here you can read all your rights.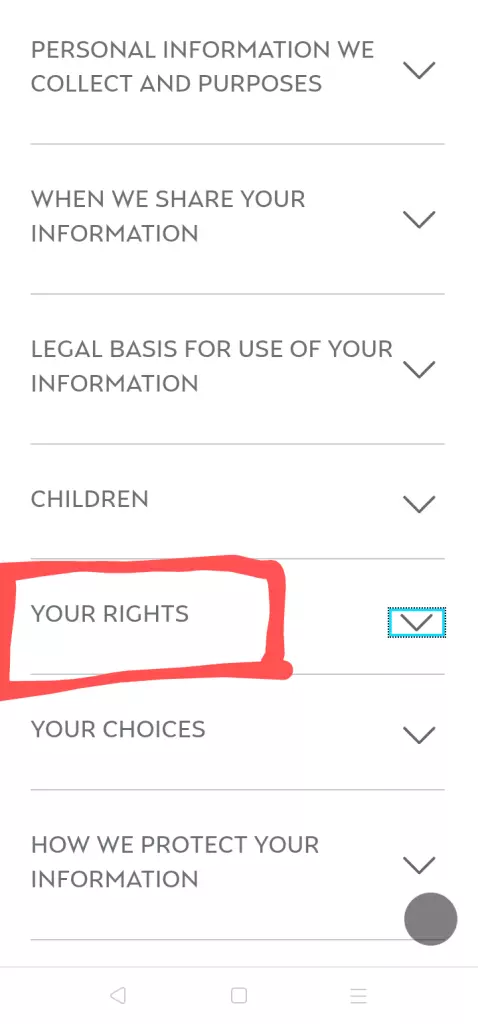 If you are a US resident then click on here button is given. This is only for US residents if you are out of the US so you will have to email the Peacock TV support team.
6. Click On "Online Form"
Now you will be on the other page. That is the rights request portal Here you can see an option in the blue color "Online Form" Simply Click on this.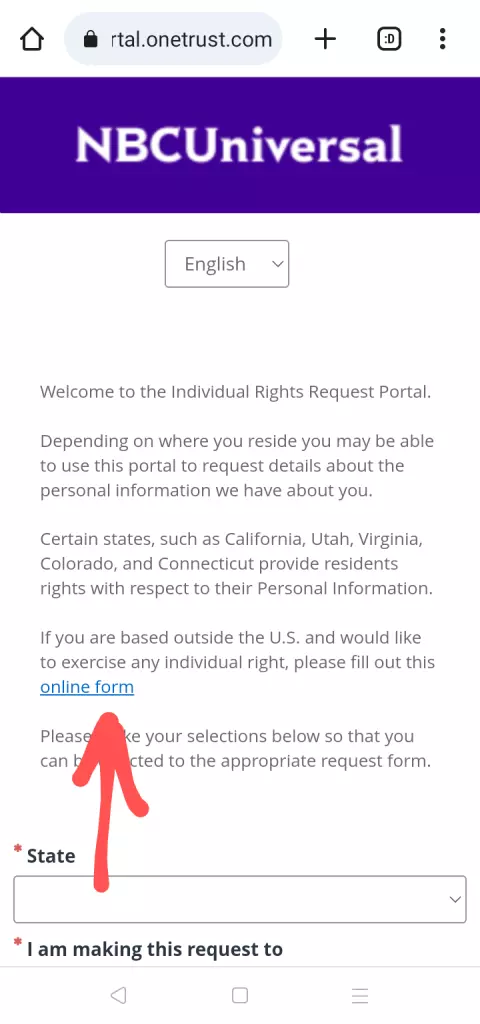 7. Filling Out The Online Form
Last but not least this step will be all about filling out the online form to delete the peacock tv account the form includes your details like first name last name and email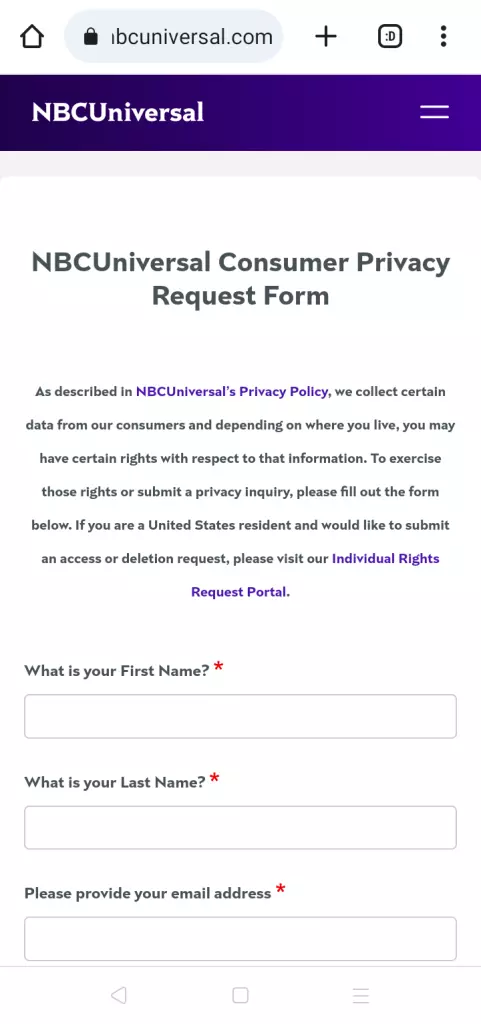 Make sure you feel you request type and Brand you are making a request for. And also make sure in the bard section choose peacock.
8. Hit The "Submit" Button.
if you want to give some additional details you can give them in the blank box This is optional after all you need to verify your captcha.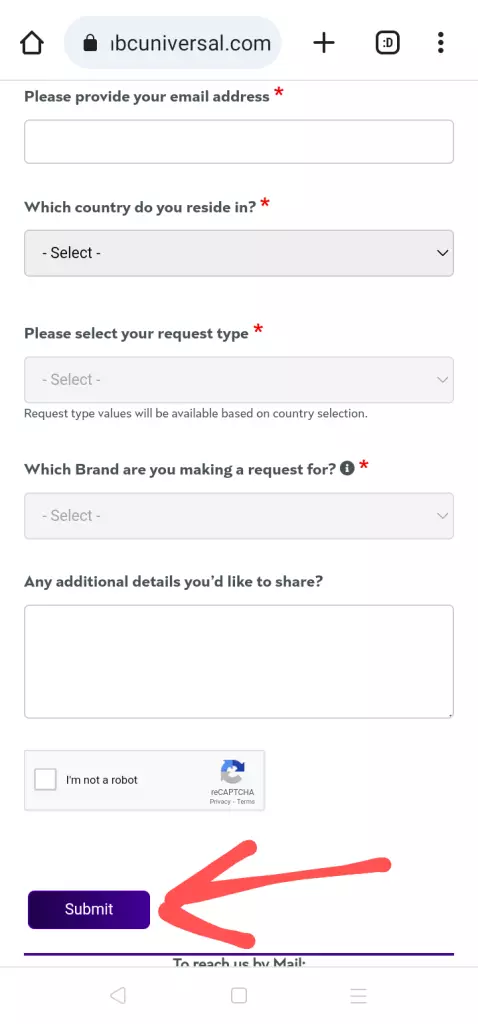 once you verify Click on "Submit" That you have done all steps successfully.
If you have any doubts about Delete Peacock Account please watch this video you will understand practically.
How can I delete my Peacock account permanently?
You can delete your peacock account if you delete your peacock account through NBCUniversal Consumer Privacy Request Form
How long does it take for Peacock to delete an account?
this is not confirmed by Peacock TV and NBC Universal it can take a long time.
How to delete peacock account on the phone?
You can delete your account on your phone. Open your browser on your phone, go to the help center, search delete account, Click On "How do I delete my peacock account", Go to the Privacy policy page, Go to "Your Rights" " and click On "Online Form", Click on Submit
Is it easy to delete the peacock account?
Yes, it is easy to delete a peacock account. if you follow all the instructions step by step.
Conclusion
I hope that the above steps will help you to Delete your peacock account successfully. Just follow every step without skipping. Hope you got the solution.
The only tip is to follow all steps, otherwise, you will get confused and will not be able to delete your peacock account. If you have any query related to peacock tv account deletion just comment below.
How To Cancel Walmart Plus Membership Or Free Trial: Step-by-Step Guide