Swiggy is one of the top-rated food delivery services through which we order our food online, but sometimes we want to delete Swiggy account for any reason.
If you really Want to delete Swiggy account then you are now in the right place, follow some steps to delete your account.
Swiggy is a one-of-a-kind food ordering app through which you can order your desired food online and get it delivered right from home.
I also Deleted my account by this method, I just mentioned the process in the below section. you have to follow step-wise to delete your Account.
How to Delete Swiggy Account?
First, Open your Swiggy app and click on "Account". Click on "Help". Click on "FAQs" As we are going to delete an account we have to go to the "Deactivate My Account " Now read this information here where you will be asked to send mail to their support team. Send mail to the given address.
Open the app
Click on "Account"
Click on "Help"
Click on "FAQs"
Click on "Deactivate My Account"
send mail to their "support team"
Let's have a clear definition of these above steps, that way you can do the process smoothly.
1. Open the app
It is easy to delete an account from the Swiggy app, for this, you follow these steps. Below I explain these steps better with a photo for your convenience. So open the Swiggy app and click on the account icon at the bottom right corner.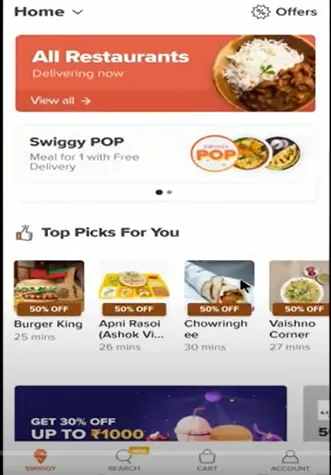 2. Click on "Account"
Now whenever you open the app, you have to click on the option of "Account", as you can see the location of the "Account" option in the image below.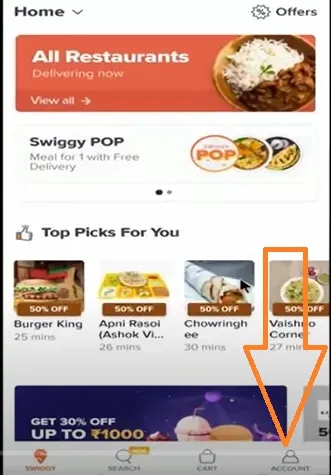 3. Click on "Help"
If we want to delete an account, we have to go to Help, and click on "Help".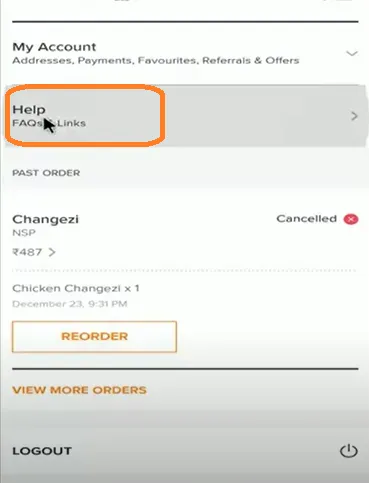 4. Click on "FAQs"
Now you can click on the "FAQ" option.
5. Click on "Deactivate My Account"
On this page, you will see different reasons for deleting your account. You need to click on "Deactivate My Account" among them to proceed with your process.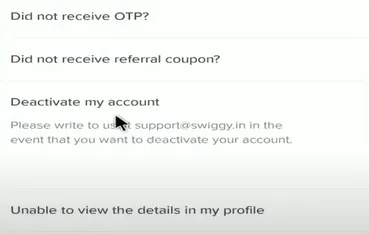 6. send mail to their "support team"
You will see an email address here, you have to mail it.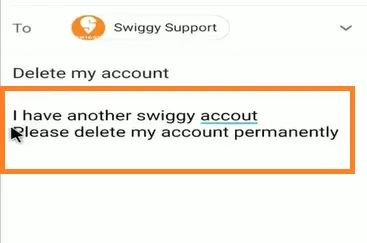 After doing this whole process you will get an email from them. Where you will be told about deleting your Swiggy Account. All your data and information will be deleted from this app within 4 to 6 hours after your confirmation.
Sometimes you want to delete Swiggy Order History but you are searching for the process to delete the account. Also, you can easily delete your order history on Swiggy just check the below post.
I hope you are not facing any problems during the process of delete Swiggy account, if so, then watch the given video. Video may be of use to you.
Now I think your doubts are cleared after watching the video now let's discuss some Faqs on this topic.
Q-1.How do I delete my Swiggy account with my phone number?
You can easily delete your Swiggy account by logging into the Swiggy app with your phone number within a few minutes. For this, you read this post completely.
Q-2.How do I delete my Swiggy address?
To remove the Swiggy address you can use it and follow the procedure given in it, for this you will get detailed information in this post.
Q-3.Can I delete Swiggy's order history?
You can delete your order history using the Swiggy app. For this, you read this post and get all the information related to it.
Q-4.How do I delete Swiggy data?
With the Swiggy app, you can order your data, history, or whatever you want. For this, you have to follow some steps which are very easy. Read this post completely for details.
Final Point:
I hope this article on "Delete Swiggy Account" proved helpful in your process. If you liked this article and appreciated our work then help us by sharing this article with your close friends and relatives.
If you have any problem anywhere in this article then feel free to ask me in the comment section. I am ready to answer all your questions as soon as possible.
Check related material it may help you more.