Unblock your Bajaj EMI Card, sometimes our Card is blocked by the company so, don't worry we are going to explain some 100% Easy & Working Steps to get back your card.
If Bajaj EMI has been Blocked for any reason, then I will tell you how to fix it. Also, I will tell you what are the Reasons why your EMI gets blocked.
I will tell two simple methods to unblock the Bajaj EMI card. I am going to give complete information about how you can do it online and how you can do it offline.
For this, you have to follow all the given steps and pay attention to the Important points.
If your Bajaj EMI card is permanently blocked, you cannot unblock it again. Don't worry, for this also you will get the solution, you just have to follow it.
What is the reason your EMI blocked?
You should also know some reason why the EMI card is blocked, If you Know this reason in advance, then you will not make such a mistake in the future. Given below are some Important reasons for EMI block, read them.
If EMI is not paid at right time:
If you do not pay the EMI payment at the right time, then the Chances, of getting blocked in this situation increase. That is why it is Important to pay EMI at the right time.
Apart from Bajaj, if you have taken a loan from any other bank and have not availed of it at the right time, then this can also affect Bajaj EMI.
Low CIBIL Score:
The CIBIL Score is checked from time to time to check, the history of all the banks. If the CIBIL score is 750+, then there is no issue with it, but if your CIBIL score is less than 750, then there are chances of getting a bajaj EMI block.
The CIBIL Score is decided by looking at the loan History, loan repayment behavior of all the banks.
If you want to increase your CIBIL score, then you can read our post. In this, complete information has been given on how to Increase CIBIL scores.
If EMI is not deducted from the bank account:
If you have given permission to deduct your Bajaj EMI from your bank account automatically, and the bank balance is less than the EMI amount, in this case, any bank will not allow for deducting EMI.
Any reason Your EMI is pending, then there is a possibility of getting the EMI card blocked. That is why it is necessary to have a little more balance in the bank, you should also pay attention to it.
How to Unblock Bajaj EMI card Using Experia
How you can unblock Bajaj EMI online, I will describe in detail below. Even if EMI is blocked permanently or temporarily, I will provide its solution.
The easiest way to unblock the Bajaj EMI card is by using the Bajaj Experia Portal website. In this way, if your EMI card is not Unblocked, then I am going to tell a different trick.
With the help of this step and by understanding the reason given above Properly, you can easy to unblock the Bajaj EMI card.
Follow the Given Step:
Login to Bajaj Experia.
Then, Login/ Create a New Account
Login Using mail Id/Customer Id/Mobile
Go to Service option then click on GO
Check Card Details
If Card is Block, then go to Card option
Then, Click Block/Unblock section
Tick mark On Unblock box
Step #1: Open a Browser Chrome/Brave/Mozilla
First of all, you have to open a browser on your mobile/computer device, then type in the search bar Bajaj Experia Portal.
Step #2: Open Bajaj Experia Portal
After that, some websites open in front of you, select the Bajaj Experia portal and open this.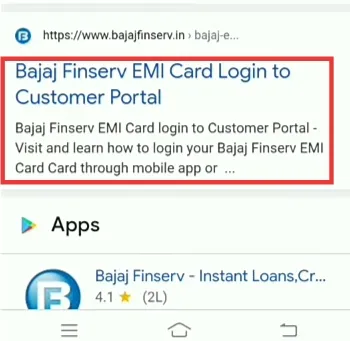 Step #3: Click on Login to Experia
Go to the Bajaj portal Login page, then click on the LOGIN TO EXPERIA button.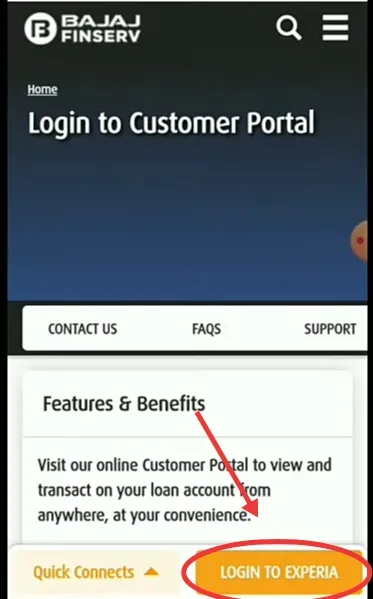 Step #4: Then, Login/ Create a New Account
On the login page, two options are given, one is log in, and another one is signup. If you first time visit this site, then you sign in first using your email id and name phone number.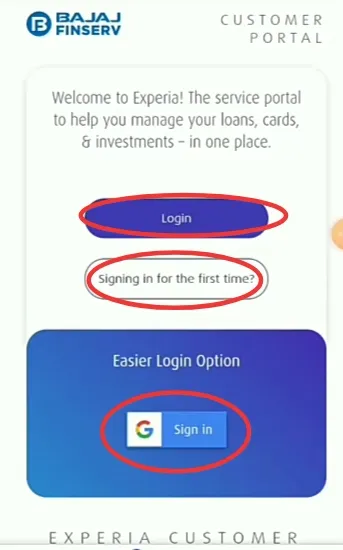 Step #5: Go to Service option then click on GO
If you have an account already on this site, then you click on the login option. After that, an OTP is sent by your mobile number, fill the OTP in the blanks, and go to the service section.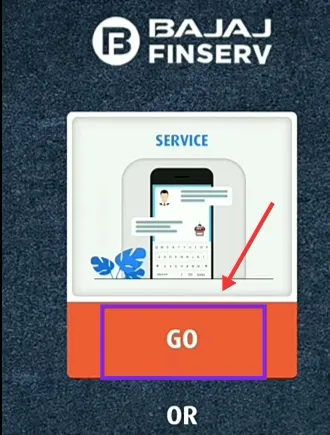 In the service section, would have given a GO option, Click on this and go to your profile Dashboard.
If your EMI card would have happen blocked, then you can see this. To Unblock the EMI card, then you have to click the CARD option, After that, a new page opens, then you click on the Block/Unblock option.
Step #6: Then, Click Block/Unblock section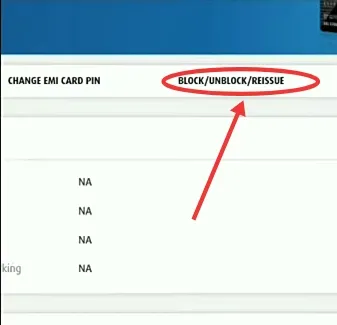 Step #7: Tick mark On Unblock box
After opening this page, you can see your card details are blocked/ Unblock. If your card is Block, then you click the Unblock box.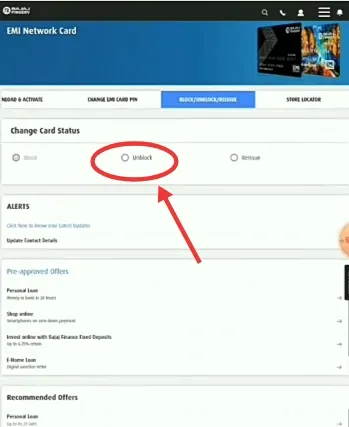 This page explains the reason why your EMI is blocked. There can be many reasons for blocking your Bajaj EMI.
By following this method, your card is not Unblocked then you can see the other trick. There are most important and proven Useful tips, follow the given process.
Note: But if the EMI is blocked for a temporary period, it gets unblocked Easily. For this, you follow all the steps and formalities, which are given in the above paragraph.
Unblock Bajaj EMI card by Increasing CIBIL Score
The main reason for the Bajaj EMI block is the low CIBIL Score. It is the most important factor, most of the EMI user's cards are blocked for this reason.
If your CIBIL scores are less than 750 it can affect your financial condition. All banks check your CIBIL score from time to time, if this score is low, then they block your EMI card.
Because the CIBIL corporation checks your all loan, your responsibility, and any other.
All ways try to increase the CIBIL Score up to 750-900, This is Considered a good score. I will tell you some points to increase your CIBIL Score up to 900.
Reason of Low CIBIL Score
Bad Payment Behaviour
Use More Credit
Apply for More Credit
Error in CIBIL Report
How to Increase CIBIL score
Repayment History
Credit Exposure
Credit Mix
Multiple Enquiries
Inaccuracies
Keep Old Credit Card
Take Loan and Pay with time
If you want to increase your CIBIL score, then read our Complete post. We have provided the complete Guide about CIBIL score in the previous post, you check the Post.
Also, Read- How to Increase CIBIL Score Up to 750-900
Unblock Bajaj EMI using customer care number
You can also use the customer care number to Unblock Bajaj's EMI card, you can solve your problem by calling the Bajaj toll-free number.
I will provide you a customer care helpline number which you can call in this, and ask to Unblock the EMI.
You can ask why it is Blocked to this number 08698010101, for this, you need the EMI number, customer ID as well as what is your problem is, you will have to tell.
If you follow the given steps and formalities Properly, then I Sincerely hope that your Bajaj EMI will be unblocked very soon.
Q. #1: How can I Unblock my Bajaj EMI card?
If you want to Unblock your Bajaj EMI card online, then you can Go to the Bajaj Experia Portal. This is the best method to Unblock your EMI card.
Second, you Increase your CIBIL Score Up to 750-900, CIBIL score is the Important factor for EMI Blocking.
Q. #2: Why my Bajaj EMI card is inactive?
There can be some of the reasons for Bajaj EMI suspension, some of the reasons are given below.
Q. #3: Bajaj EMI card Unblock Customer Care Number?
To do Unblock the Bajaj EMI, the customer care number Mostly helps you. You call this number and ask about your problem, the team can solve your issue.  08698010101 is the Bajaj Toll-free customer care number, Use this number.
Q. #4: Can I unblock my Bajaj card?
Yes, you can Unblock your Bajaj Card using the customer portal. Using the registered mobile number login, then go to the My relation tab and choose the EMI. After that select Unblock option, this is the easiest way to unblock the Bajaj EMI Card.
Summary
How to unblock Bajaj EMI card 2022: Friend Today, I have told You how you can Unblock your Bajaj EMI with the help of the Online method.
Also, I explain what are the main reason for Unblock the EMI, and how to resolve this type of problem. If you have any doubt, then you ask in the comment section, I also try to reply to your comment.
May You Like:
Increase CIBIL Score 750 to 900 Immediately in 2022