How to Stop Hair fall: Friends, are your hair falling fast? If you are concerned with this, if you want to get rid of this problem, then you can follow some of the tips mentioned in this post.
Nowadays hair fall has become a common subject, for which most people spend a lot of money for its treatment, yet their problem does not end.
If you eat the right food every day, follow the diet, and take care of the hair properly, your chances of hair fall are less.
Our hair also has an age, in 2-3 Years new hair keeps on being generated, this is a process that is controlled by our body and vitamins, nutrients.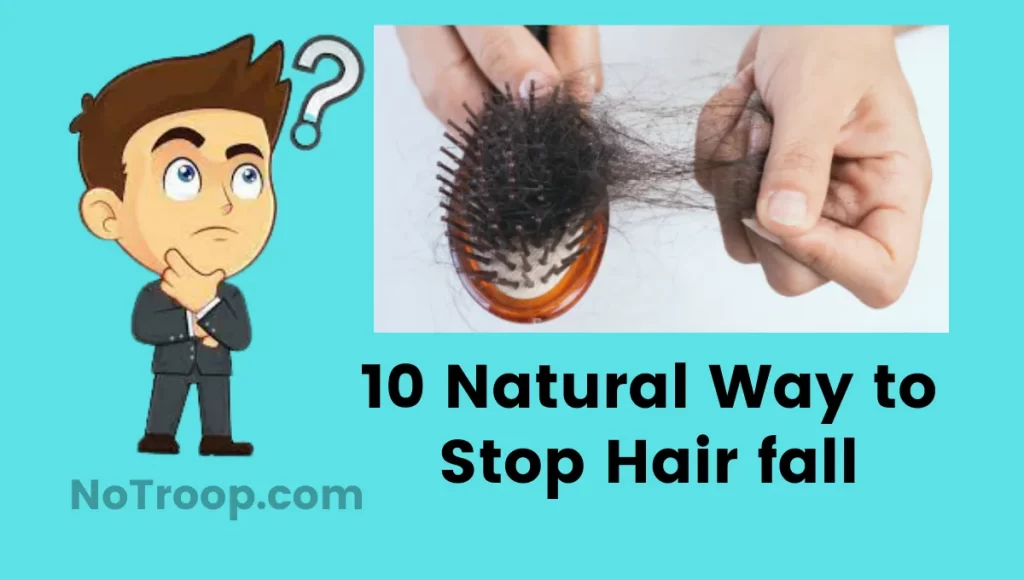 To keep hair healthy and Strong, natural remedies are better, you can take Diet, eat foods rich in vitamins, fruits, juices. If you want to know about all the tips, then keep reading with the end.
Symptoms of Hair Fall
Hair fall can have many symptoms, but some symptoms can be similar. If the given type of Symptoms is happening to you, then get it treated immediately.
All Types of information have been given in this post, read it well, and stop hair fall.
Suddenly thin hair
Gradual hair loss on top of the head
Circular bald spots in the head
Full-body hair loss
Bald patch
Men: Hair Loosening on the top and front of the head.
Woman: Thinning the hair in the middle of the scalp.
How to Prevent Hair fall for female
When women are experiencing unexpected 60-100 hair loss every day, then to stop it, you should do its prevention. If you are having such hair fall then there are some reasons which are explained below.
Hair fall reasons in Female
Hair Style
Vitamin Deficiency
Diet for (Weight loss)
Use of chemical treat or bleach
Use by Hair-dryer
Stress
Age
Causes FPHL-Female Pattern Hair Loss
Women's hair fall can due to many reasons, it can be genetic or due to not taking proper care of hair.
If you use a lot of shampoos, chemical oil, to keep the hair looking Good, use things like gel to lengthen the hair, then this can also be the reason for hair fall.
So stay away from it as much as possible and start using natural things.
How to stop Hair fall for men
Hair fall is the most visible in males right now, it has increased so much that more than 80% of the male are struggling with this problem.
Men's hair fall can also be genetic, and it is happening more due to chemical Oil, hairstyle drying of hair. Androgenetic alopecia is mostly caused by aging or low testosterone levels in male hair fall.
If you also use Mostly chemical oil or shampoo, then stay away from it, it is necessary to use natural or organic things.
Hair fall reasons male
Hair Style
Stress
Vitamin Deficiency
Diet for (Weight loss)
Use of chemical treat
Use by Hair-dryer
Age
Cause of Hair fall
There can also be a lot of reasons for hair fall, which can affect your hair directly or indirectly. Below you have been told some regions, Maybe you are also facing the problem of hair fall for the same reasons.
To avoid hair fall, you should use a more Organic method, as there are no side effects with organic medicine.
In the Pregnancy Period
In Menopause Period
Chemotherapy
Autoimmune Diseases
Medical Condition
Extreme Hair Care
For Thyroid Problem
Diet Deficiencies
Physical Trauma
Hair Styles for male/female
Using Chemical Oil
Stress
Genetics
For Alopecia
Food Diet for stop Hair fall
Hair fall depends on things like our hormonal changes, lifestyle, diet, stress, age. If you have any medical problem and the doctor keeps you away from some vitamin-rich food for some time, and give to use some medicine.
For this that impacts your daily life and, hair, health, the body is not the Right nutrient, due to this reason hair loss is started.
There seems to be a problem like a fall. To control it, you have to follow a good food diet. I have recommended some food below, which can help you to avoid hair fall.
Walnuts
Brazil nuts
Almonds
Flax seeds
Chia seeds
Berries
Cherries
Apricots
Grapes
Oranges
Strawberries
Eggs
Chicken
Carrots
Oats
Spinach
Prunes
Sweet potatoes
Avocado
Seeds
Meat
Yoghurt
Black beans
Avoid this type of Abuse
If you want to get rid of diseases like hair fall, then you have to change your routine. The problem of your hair loss is being seen in most people because in today's time people are trying to make the body look beautiful by leaving their health.
So you have to stay away from all these things and keep your hair and body healthy.
Get out from stress:
Most stress affects our health and mind, it has never been good for health, but it is the most damaging problem.
Stay away from stress as much as possible, most hair fall diseases are Happening due to stress. That is why try to keep the mind as fresh and active as possible, this can solve you and your hair problem.
You can do yoga exercises to come out of stress, play games like chess to keep the mind sharp, try to do physical exercises and mental exercises as much as possible.
Stay away from regular trims:
If the hair fall is getting too much, then you should also trim it in the interest of some adjustment, it can clean your bad hair by cutting it.
First, you clean the hair once in shampoo, after that cut the lower 1-inch hair with a scissor. If you cannot do this work yourself, then you can go to the salon. If you are a male, then go to any salon and ask to cut your hair short.
Trim is Good for hair fall, but you have to do it after 3-4 weeks, do not do it more often, if you do it at the right time, then hair fall can stop.
Don't use Chemical Oil:
Excessive use of chemical oil destroys the strength of the hair, hence the hair is not known to be strong and healthy.
Use organic oil or depth oil instead of chemical oil. You buy oil cheaply from anywhere, and use it in hair, due to which reason hair fall starts.
Extreme Hair Care:
If you dry the hair again and again for more appearance, it is common to have hair fall, the hairdryer reduces the strength and softness of your hair.
Don't Use Hairstyling product:
Stay away from using hair styling products as much as possible, if you do more hairstyling, then hair fall will happen.
To make the hair look beautiful or Smart itself, using the hairstyle product has a lot of effect on the hair.
Use these Product daily to stop hair fall
You can use some essential products to stop hair fall. So that Your hair fall can be Controlled, if you can use similar products in your daily life, then hair fall can be Stopped to a great extent.
I will tell you about some products, which are necessary and Easily available in the market. You can buy it from the market Either order online, then use this.
Shampoo
There are many types of shampoo available in the market, but you have to choose some good brand or organic shampoo. Wash the hair at the right time, and it is also important to take care of the hair.
You Can prepare a routine to wash hair, keep hair soft. No Chemical substances should be used in the shampoo, Whenever you buy the product, check the expiry date properly.
Hair Conditioner
Hair conditioner also helps to keep hair strong, shiny, and soft, so try to use a good quality hair conditioner, which can also stop hair fall.
If there is a lot of dirt on the head, and it is itching due to hair, then you can remove it with a hair conditioner.
Use Coconut oil
According to some research, it has been told that by using coconut oil, the sun's ultraviolet radiation does not affect most of the hair. That's why you should use coconut oil mostly, it will be beneficial for your hair.
There is a lot of protein in this oil, it keeps the hair strong from the root, which eliminates the possibility of hair fall.
Use Olive oil
You can also use olive oil for hair, this is a great benefit of oil, and it is also necessary for hair. Olive oil contains more protein, antimicrobial, and antioxidants, agents that can help with healthy hair.
Regular washing
Washing your hair Regularly does not leave any kind of dandruff in your hair, the head remains clean. That is why it is necessary to Wash the hair from time to time.
Vitamins to Prevent hair loss
There are some types of vitamins, the deficiency of which leads to hair fall, along with this, if you take this vitamin food every day, your hair will start re-growing again.
Hair loss can occur if your body lacks the right vitamins and minerals. In this section, I will explain to you some essential vitamins, which will be able to make your hair grow again.
Below you have been told about the top 5 vitamins, which are beneficial for your body, to increase it, you can eat fruits or healthy food.
Iron, Vitamin C, Vitamin D, Zinc, Biotin
Iron:
Iron is essential for your body, without enough iron the body cannot produce more red blood cells. If you have more iron, then the hemoglobin Lebel in the body is high.
Iron is needed for red blood cells and helps carry oxygen. Deficiency anemia for low-level iron leads to disease.
Food for Iron
Shellfish
Spinach
Liver
Red mead
Pumpkin seeds
Apple
Banana
Pomegranates
Vitamin C:
Vitamin C is essential for the proper development and maintenance of all tissues in your body. Vitamin C helps for Wound healing, and cartilage is involved in many functions of the body, including bone and dental care.
Food for Vitamin C
Citrus Fruits
Strawberries
Blackcurrants
Broccoli
Potatoes
Brussels sprouts
Vitamin D:
Vitamin D' also plays a major role in hair loss, you must know vitamin 'D' is to make strong bones, in the same way, it is necessary for hair.
That's why you have to eat some foods that contain vitamin 'D' in abundance.
Food for Vitamin D
Fatty fish, tuna, salmon, mackerel
Beef liver
Cheese
Egg yolks
Orange
Zinc:
Zinc is a nutritious food found in our body, that helps to improve our immune system and metabolism function. Zinc is also required for wound healing and your sense of smell.
Along with this, zinc plays a major role in producing protein in your hair cells, if you want to improve zinc in the body, then you have to eat a lot of zinc-rich foods.
Food for Zinc
Oysters
Avocados
Blackberries
Pomegranates
Raspberries
Guavas
Apricots
How to stop Hair fall During Chemotherapy
If you are suffering from cancer, and you need Chemotherapy, then it is common for you to have hair fall. If you want to stop hair fall, then it is not possible, because when you are done chemotherapy, the hair will Completely fall.
It is important to get rid of dangerous diseases like cancer, that is why you do not need to pay attention to the hair.
Even if you do not have hair in your body, it may not be an issue, but if not treated properly, cancer can also take your life. You can consult a doctor for hair protection, he can help you.
Q. #1 Can we stop hair fall naturally?
Yes, you can stop hair fall naturally, for this you have to make changes in lifestyle, diet. Food full of Iron, Vitamin C, Vitamin D, Zinc, Biotin will have to be consumed.
Q. #2 What are the main cause of hair fall?
These are the common and Main causes of Hair fall.
LifeStyle
Stress
Vitamin Deficiency
Diet for (Weight loss)
Use of chemical treat
Genetics
Age
Diet Deficiencies
Extreme Hair Care
Medical Condition
Chemotherapy
Q. 3# Which oil is best for hair fall?
These are some organic oil, to stop hair fall.
1-Himalaya Herbals Anti Hair Fall Hair Oil
2-Trichup Hair Fall Control Herbal Hair Oi
3-Mamaearth Onion Oil for Hair Growth & Hair Fall Control
4-Biotique Bio Bhringraj Fresh Growth Therapeutic Oil
Q. #4 Which food reduces hair fall?
There is a lot of protein in the food mentioned, it remains beneficial for the hair, that's why you should eat this type of food.
Walnuts, Eggs, Chicken, Carrots, Oats, Sweet, potatoes, Avocado, Seeds, Meat, Yoghurt
Conclusion
How to Stop Hair fall: Hair is a vital part of our body, which provides a beautiful and attractive look to a person, and due to hair fall, life becomes a lot of trouble, I have given you as much knowledge as possible to get rid of hair fall.
Shared, I do as you follow him, if you must have got to learn something from the post, then definitely tell by commenting below, as well as do not forget to share with friends.
May You Like:
How to unblock Bajaj EMI card Online/Offline Full Process in 2022