Are you searching for How To Reverse Lookup A Phone Number For Free? and looking for the best method to know the owner of the phone number, who is calling you, but the person is unknown?
So the solution is here, Today I have found some methods & the process for this problem, many users are facing the same problem as you, but they don't get any proper solution.
Calling from an unknown number is a common thing these days, because now everyone using a mobile, and anyone can call you knowingly or unknowingly, but it is also important to know the person.
Today In this post I will try to provide you with some effective and useful methods to conduct the Reverse lookup method for free with a phone number, let's follow our given steps.
How To Reverse Lookup A Phone Number For Free?
There will definitely be a question in your mind, Does this (Reverse Lookup A Phone Number) method work? and the answer is yes, if there is a problem then there is a solution too.
In such a situation there are many tools and some effective methods in the market, through which you can try the Reverse Lookup method for free.
When I researched the solution to this problem and tried it myself, it was working very well for me. Out of all those methods, I have selected some better & effective methods, which below you will get to know its step-by-step process.
Do You know What is Reverse Lookup method & how it works?
The Process of finding information about a particular phone number to identify the owner details behind this number is called Reverse lookup.
It is a process to find their information from public records and other databases, such as the name, address, picture, profile details, etc.
There are multiple methods to conduct the reverse lookup method for free, also there have some websites that provide the same service, also in this post, you will get to know about this, only keep reading.
Best Method To Conduct The Reverse Lookup For Free
The Reverse lookup process you can do with various methods (you can use search engines, Social Media, Websites, & mobile applications like Truecaller).
By using these methods, you will get your solution, all the methods are explained in detail, check them below.
Use Search Engines
Through Social Media
Reverse Lookup With Website
You can try the 3 methods to reverse lookup A Phone Number For Free, You should try all methods, because from those some may not work for you, because finding personal details from a phone Number.
1. Search Engines Reverse Lookup For Free
There are many paid and free methods available for reverse phone lookup, so in this section I will share some tips, to find information about a number using a search engine like Google or Bing.
In this paragraph, I will outline the step-by-step process of using search engines to perform a reverse phone lookup.
Open Your Search bar on (Google or Bing).
Then type the phone number in the search bar section, which phone number you want to find the detail.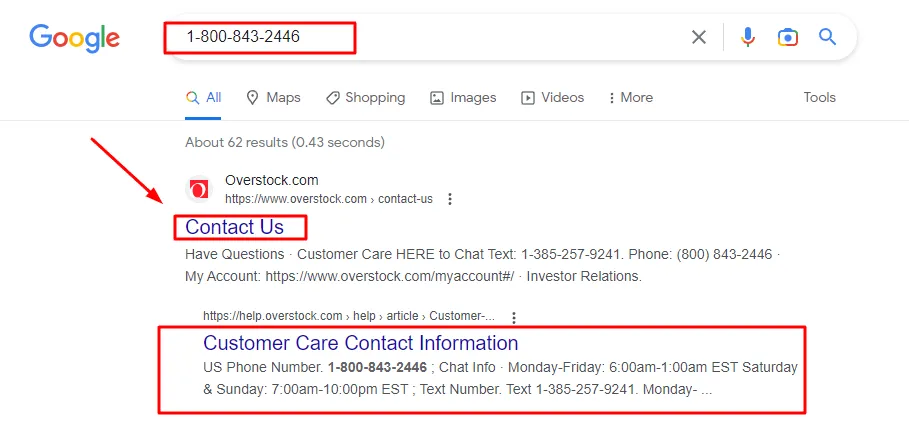 After that, Enclose the phone number in quotation marks: For example, "1-800-843-2446", then click on the enter button.

If any websites or online directories, Provide that information and available on the internet the phone number's owner, so you can easily get into the search result.
Note that some websites may require you to sign up or pay a fee to view the full details, so be sure to read the site's terms and conditions before taking any action.
2. Social Media Reverse Lookup For Free
Also, you can try social media to check the details of this number, social media is a popular platform, where many people share their personal information (Name, Phone number, details, bio, location, etc).
Maybe it can be a possible and effective method to use social media to try the reverse lookup method to identify the owner of this unknown phone number.

Open Your social media profile, If you have an account on (Facebook, LinkedIn, and Twitter).
Then, Type the Phone number on the search bar Of your social media Profile.
If with this number anybody creates a profile or shares their detail, you may get the result after searching.
After that, If you get any search research, Click on this profile to view the complete details and information.
3. Reverse Lookup With the Websites
If you want to find a particular solution using the reverse lookup method, the best on the most powerful way is to do the process through some baste lookup service provider website.
In this section also I will include some best websites to check as well as the process of how you can check. Here are the Top 10 Best Websites to Perform the Reverse Lookup Process.
NumLooker
Whitepages
Truecaller
CocoFinder
USPhoneSearch
WhoseNumber
WhoCallMe
USPhoneBook
BeenVerified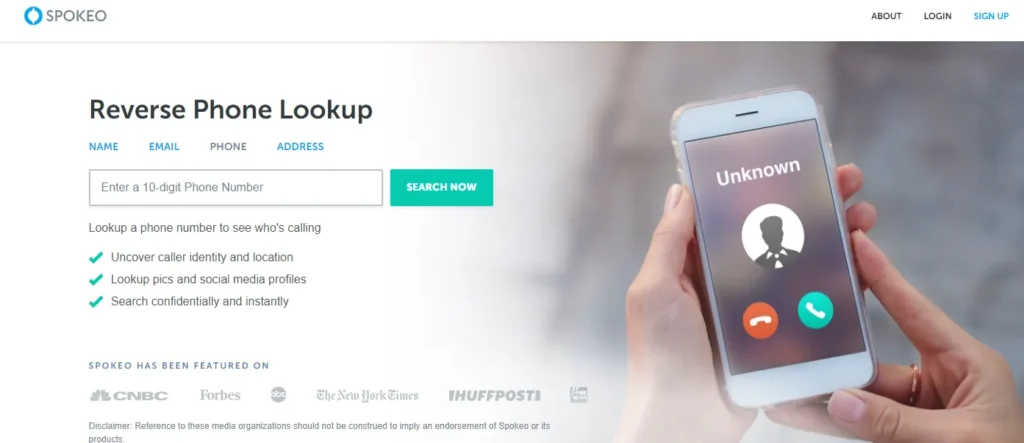 There are many popular websites in the market, that can provide this particular service (Reverse lookup of a phone number), you can check & get the data of this number by using the given website.
These websites collect information from various sources (Public records, social media profiles, bookmarking websites, etc), with the help of those sources they have a huge database, that can help to find the details of a phone number using this method.
If you want to know the process in more detail, let, 's watch the video to get a more effective solution to your queries.
The Process Of Finding a person with a phone number and using the Reverse Phone Lookup method is easy but needs to take a few steps.
So If this blog post is helpful, let me in the comment, as well as check the given commonly asked questions & their answers.
Is there free reverse phone lookup?
Yes, there are many types of methods that you can try for free, to conduct a reverse lookup of a phone number.
How can I find out who a phone number belongs to for free?
You can use online directories, Social media (Facebook, Instagram, LinkedIn, etc), or search engines to find the owner of a phone number for free.
Can you Google search for a phone number?
Yes, you can use Google to find a phone number and find information about the owner, but it can be not useful in many cases.
How can I know the owner of an unknown number?
There is some method to know the owner's details using a phone number, but there has no such straightforward process.
1. Use Search Engines
2. Through Social Media
3. Reverse Lookup With the Website
4. Use a Free Mobile Application
What is the best way to trace an unknown number?
The best way to track down an unknown number is to use a reputable reverse phone lookup service or try to do it legally, also you can contact your local Police.
Conclusion:
Hopefully, this guide can be useful for you, Reverse phone number lookup is a useful method to know who owns a particular phone number.
There are many ways to do a reverse search for free, With the right information and resources, you can easily identify any unknown caller without spending any money.
But there is no straightforward solution to find the details, name & other related information using the reverse lookup method.