Do you want to know How to Increase your Pay later Limit On Flipkart? So you have found the right place for getting a proper solution.
However, your Pay Later Limit on Your Flipkart account, Is very low up to 500, and If you want to increase this limit, the good news is you can easily increase your pay later limit, and able to make larger purchases.
Flipkart's Pay Later feature allows you to make purchases on credit and pay later. This is a convenient way to shop, especially when you don't have any funds to pay immediately, in case you can use this feature.
Recently I have increased my Limit to 20 thousand, So In this blog post, I will share your effective method, and the complete step by steps process, for increasing the Pay later Limit.
How To Increase Flipkart pay later limit?
To increase the Flipkart Pay Later Limit, the first method, Is you have to update Your KYC, and other details documents with Flipkart such as (your Pan card, Adhaar card, and Bank Details).
If your account has a very low credit limit (₹500), then you should increase it, so let's discuss how you can increase your pay letter limit.
Open Your Flipkart Application, Click On the Account Section, Select the "Flipkart Pay Later" and Activate Your Pay Later Feature.
Open Your Flipkart & Login
Click on the Account Section
Select the "Flipkart Pay Later"
Activate Your Pay Later Feature
To Activate Your Pay Later Features on Flipkart Application, follow the Given Steps.
1. Open Your Flipkart & Login
Open Your Flipkart application On your Device, If you want to activate your Pay Later through a web browser, you need to log in first.
2. Click On the Account Section
Once you are logged in, first check your eligibility for Flipkart Pay then visit the 'Account' section and click 'After Flipkart Pay'.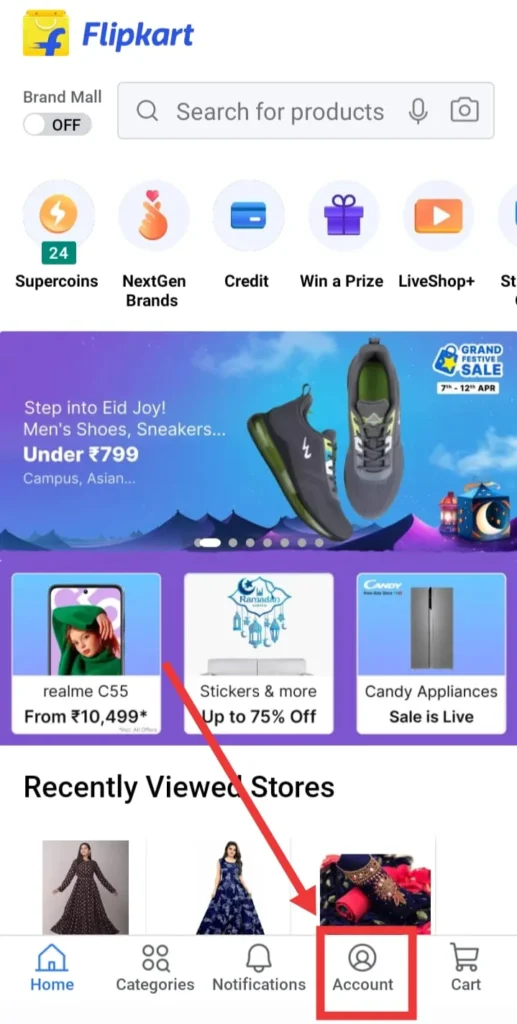 3. Select the "Flipkart Pay Later"
Here, you'll be able to see if you qualify for the feature based on your credit score and other factors. In the Credit Options, Click On the "Flipkart Pay Later" section.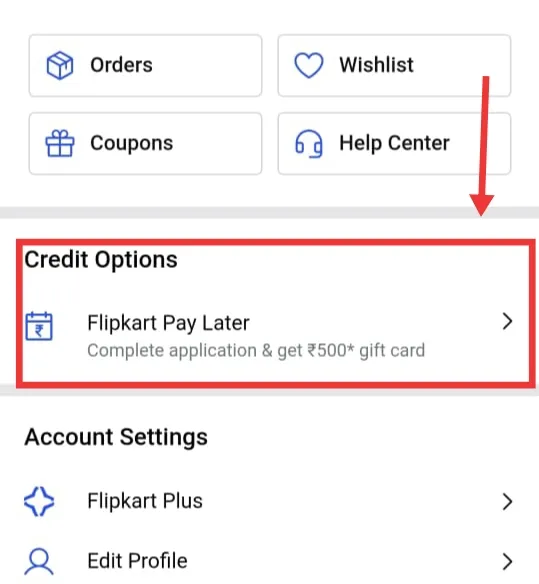 4. Activate Your Pay Later Feature
On this page, You have to add your details and KYC, to activate the Pay later Feature In your Flipkart Account. Enter Your Pan card Number, Aadhaar, and Bank details, then Click On Activate Now.
Make sure Your Pan Card Should Be Linked to your Aadhaar Number, Fill in the Proper Details, and complete the activation Process.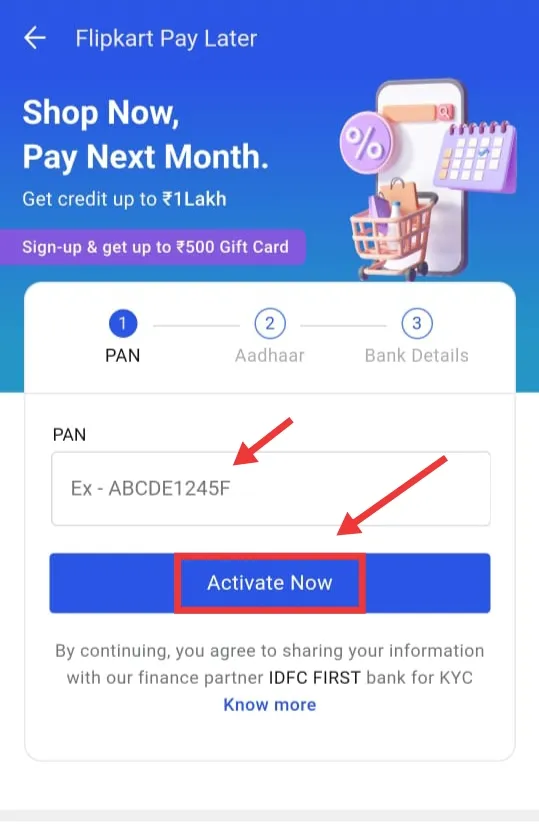 After following the given steps, your pay later option will be activated successfully, now it is not working to increase the limit. So let's discuss other methods and their process.
Some Proven Ways To Increase Pay Later Limit
If you do not order anything from Flipkart for a long time or mostly, then your limit does not increase with time, so you have to order products from Flipkart and get the payment on time.
1. Use Flipkart Pay Later Regularly
You have to buy some products from Flipkart and use the Pay Later future, even if your pay later limit has 500, you have to gain trust from Flipkart.
Next, paying the bills on time is one other the most effective method for increasing Pay Later Limits. Make sure late payments can negatively impact your credit score or CIBIL score, so for reducing the chances of a Low credit score, pay on time without delay.
From time to time, you can receive some messages and offers from Flipkart to increase the Pay Later limit, after following those steps, with time my credit limit is increased to 20 thousand.
2. Maintain A Good Credit Score
A credit score is very important for building trust, If your credit score is good, it makes the chances of getting offers to increase the credit limit, also Flipkart will be more likely to increase your limit.
3. Make a large purchase
When You buy something from Flipkart, try to make a large purchase with Flipkart Pay Later, they may be more likely to increase your limit.
This is because it shows that you're able to repay a large amount of money. After buying the product, you have to pay with time the bill, which can be helpful for your credit score.
Still, if you have other doubts related to increasing Your Flipkart Pay Later Limit, watch the video, also through this video you will get a visual guide, and the latest process.
What is the maximum limit in Flipkart Pay Later?
The Maximum LImit in Flipkart Pay later depends on users, based on their credit history, Income, and repayment behavior, the range can be few thousand to 1 lakh or more.
Can I increase my credit score with Flipkart Pay later?
Yes, You can Increase your Pay later Limit, by following a few steps, (If your account limit is 500, you may need to activate your Flipkart pay later limit features first), then try to make a big purchase, Pay with time, maintain good credit score, etc.
Is Flipkart pay later bad for Cibil?
No, Flipkart PayLater is not inherently bad for CIBIL (Credit Information Bureau India Limited) or your credit score.
Is PayLater good for Cibil?
If You used it responsibly, Paying later can be good for CIBIL and your credit score.
Conclusion
Remember to use Pay Later loans responsibly and make your payments on time to avoid any negative impact on your credit score or your payday limit.
I hope the blog post On "How to Increase Flipkart pay later limit" becomes helpful to you.
Still, if you want to ask something related to the Flipkart credit limit, or other queries, let me know in the comment section, If you appreciate our content, you can share it with your friends.
Check Some Related Content:
How to Change Billing Address In Flipkart And Shipping Address